Rasten: Uppdraget rädda sommarlovet
Recess: Scool's Out (2000)
även med de svenska titlarna
Rasten: Uppdrag rädda sommarlovet och Rasten: Rädda sommarlovet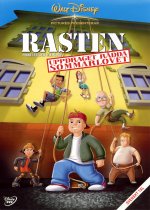 DVD-omslag från 2002. VHS-utgåvan har samma omslagsbild. © Disney.
Här får vi träffa kompisarna från tv-serien
Rasten
i deras första långfilm.
Det ringer ut för sommarlov på Tallbarrskolan, och alla barnen ger sig iväg på olika sommarläger. Eller nästan alla, för Tobbe Detweiler är ensam kvar i stan. En dag när Tobbe cyklar förbi skolan ser han att det pågår mystisk aktivitet där inne, trots att skolan egentligen borde stå tom. Inga vuxna verkar vara speciellt intresserade, men till slut följer rektor Prickly motvilligt med för att ta reda på vad som pågår. Just när rektorn ska gå in på skolan försvinner han spårlöst. Tobbe ser ingen annan råd än att åka runt till de olika sommarlägren och samla ihop sina kompisar. Så småningom upptäcker de att skolan har belägrats av en tidigare rektor, vars mål helt enkelt är att avskaffa både sommaren och sommarlovet...
Röster
Engelska originalröster
Vince
Rickey D'Shon Collins
Mikey
Jason Davis (tal)
Robert Goulet (sång)
Gretchen
Ashley Johnson
TJ
Andy Lawrence
Gus
Courtland Mead
Spinelli
Pamela Segall Adlon
Principal Prickly
Dabney Coleman
Becky
Melissa Joan Hart
Fenwick
Peter MacNicol
Ms. Finster,
Mrs. Detweiler
April Winchell
Benedict
James Woods
Guard #2
Diedrich Bader
Miss Grotke
Allyce Beasley
Tech #1
Gregg Berger
Digger Sam
Klee Bragger
Bald guy
Clancy Brown
Guard #1
Dan Castellaneta
King Bob
Toran Caudell
Ashley Q
Rachel Crane
Cap'n Sticky
E.G. Daily
Colonel O'Malley
Lee Ermey
Dr. Lazenby,
Tech #2
Ron Glass
Dr. Rosenthal
Tony Jay
Mr. Yamashiro
Clyde Kusatsu
Mort Chalk
Charles Kimbrough
Lunch lady #2,
Opera director,
Dr. Steinheimer
Tress MacNeille
Lunch lady #1
Andrea Martin
Ashley A
Anndi McAfee
Technician
Mark Robert Myers
Digger Dave,
Randall
Ryan O'Donohue
Golfer #2,
Scientist #2
Phil Proctor
Jordan
Patrick Renna
Cop #2
Kevin Michael Richardson
Golfer #1
Jack Riley
Soldier kid,
Wrestler kid
Justin Shenkarow
Hustler kid
Michael Shulman
Ashley B,
Swinger girl,
Upsidetown girl
Francesca Marie Smith
Counselor
Kath Soucie
Superintendent
Robert Stack
Coach
Ken Swofford
Cop #1
Nick Turturro
Captain Brad,
Lawson
Erik Von Dettin
Coach Kloogie,
Mr. Detweiler
Paul Willson
samt
Wendy Hoffman
Ashley Michael Bell
Richard Jannone
John Bruno
Jack Johnson
Steve Buellin
Danielle Judovits
Ben Diskin
Erica Mer
Erin Donavan
Sarah Rayne
Murphy Dunne
Aaron Spann
Ashley Edner
Doug Stone
Jessica Gee
W.K. Stratton
Jackie Gonneau
Glen-Bob Sweet
Charity James
Shane Sweet
Svenska röster
TJ
Tobias Swärd
Vince
Sebastian Paulsson
Spinelli
Elina Raeder
Mikey
Leo Hallerstam (tal)
Krister St. Hill (sång)
Gretchen
Annika Barklund
Gus
Tin Carlsson
Rektor Prickly
Guy de la Berg
Becky
Jennie Jahns
Fenwick
Dick Eriksson
Frk. Finster
My Holmsten
Benedict
Dan Bratt
samt
Sharon Dyall
Adam Fietz
Alexander Gylemo
Per "Ruskträsk" Johansson
Michael J:son Lindh
Rachel Molin
Magnum Coltrane Price
Mikael Roupé
Annika Rynger
Kristian Ståhlgren
Magnus Veigas
Carl Waldekranz
Sånger
"Dancing in the Street"
Text och musik: Marvin Gaye, Ivy Jo Hunter, William Stevenson
Framförd av: Martha & The Vandellas
"One"
Text och musik: Harry Nilsson
Framförd av: Three Dog Night
"Born to be Wild"
Text och musik: Mars Bonfire
Framförd av: Steppenwolf
"Wipe Out"
Text och musik: Robert Berryhill, Patrick Connolly, James Fuller, Ronald Wilson
Arrangemang: Denis M. Hannigan
"Incense and Peppermints"
Text och musik: John Carter, Tim Gilbert
Framförd av: Strawberry Alarm Clock
"Purple Haze"
Text och musik: Jimi Hendrix
Arrangemang: Denis M. Hannigan
"Colonel Bogey"
Text och musik: Kenneth J. Alford
Arrangemang: Denis M. Hannigan
"Nessun Dorma"
Text och musik: Giacomo Puccini
Sång: Robert Goulet
Arrangemang: Denis M. Hannigan
"Theme from S.W.A.T."
Text och musik: Barry de Vorzon
Arrangemang: Harvey Cohen
"Nobody But Me"
Text och musik: Rudolph Isley, Ronald Isley, O'Kelly Isley
Framförd av: The Human Beinz
"Let the Sunshine In"
Text och musik: Galt MacDermot, James Rado, Gerome Ragni
Framförd av: The 5th Dimension
"En grön tamburin" / "Green Tambourine"
Text och musik: Shelley Pinz, Paul Leka
Arrangemang: Denis M. Hannigan
Sång: Robert Goulet
Kör: Randy Crenshaw, Blake Ewing, Ricky D'Shon Collins, Anndi McAfee, Pamela Segall Adlon
Svensk text: Magnus Veigas
Svensk sång: Krister St. Hill
Svensk sånginstruktion: Sharon Dyall
"Dancing in the Street"
Text och musik: Marvin Gaye, Ivy Jo Hunter, William Stevenson
Framförd av (engelskt originalspår): Myra
Producent och arrangör (engelskt originalspår): Keith Cohen
Framförd av (svensk dubbning): Atomic Kitten
Producent (svensk dubbning): Engine
Svensk produktion
Regissör:
Sharon Dyall
Översättning:
Robin S. Joyner / Medieværket
Teknik:
Sun Studio A/S filial Sverige
Inspelning:
Rickard Sporrong, Lawrence Mackrory
Redigering:
Rickard Sporrong
Studioproducent:
Magnus Veigas, Svend Christiansen
Kreativ supervisor:
Kirsten Saabye
Svensk version producerad av:
Disney Character Voices International, Inc.
Produktionsfakta
Speltid (på bio):
83 minuter 17 sekunder
Director: Chuck Sheetz
Created and produced by: Paul Germain, Joe Ansolabehere
Producer: Stephen Swofford
Story by: Joe Ansolabehere, Paul Germain, Jonathan Greenberg
Screenplay by: Jonathan Greenberg
Music score by: Denis M. Hannigan
Dialogue director: Paul Germain
Voice casting: Allyson Bosch
Supervising film editor: Nancy Frazen
Sound designer: Ronald Eng
Production dialogue editor: Elliot Anders
Art director: Eric Keyes
Original character design: David Shannon
Visual development: Plamen Christov, Bob Schaefer, Jose Zelaya
Technical director: Glo Minaya
Storyboard supervisors: David Knott, Brad Vandergrift
Supervising timing director: Brenda Piluso
Overseas supervisors: Rick Allen, Mike Kaweski
Associate producer: Michael Tyau
Film editor: Tony Mizgalski
Storyboards: Francis Barrios, Celia Kendrick, Sandy Frame, David Knott, Stark Howell, Brad Vandergrift
Timing directors: Joan Drake, Terry Lennon, Nicole Graham, Brenda Piluso, Chuck Sheetz
Additional timing direcors: Russell Calabrese, Thomas Mazzocco, Jamie Huang, Jerilyn Mettlin, Robert Hughes, Maureen Mlynarczyk, Jill Jacobs, Howy Parkins, Andrea Klein, Patricia Shinagawa
Punch up writers: Mark Archuleta, Bart Jennett, Mark Drop, Rachel Lipman, Mike Ferris, Ford Riley, Pete Gaffney, Phil Walsh, April Winchell
Lead character designer: Eric Keyes
Lead color stylist: Nancy Ulene
Character design cleanup: Ginny Hawes
Additional character design: Jose Zelaya
Key location design: Plamen Christov
Prop design: Tris Mast, Chuck Puntuvatana, Mark Roberts
Lead key background stylist: Bob Schaefer
Key background stylists: Andrea Coleman, Rick Evans, Carolyn Guske
Additional color styling: Britt Teegarden
Animation production by: Sunwoo Animation Co., Ltd. Seoul, Korea
Executive producer: Han-Young Kang
Managing director: Joo-Suk Kim
Layout directors: Kwang-Hee Lee, Young-Che Kim, Baik-Ma Jung, Jae-Young Jung, Sun-Mi Heo
Animation directors: Chang-Geon Noh, Sung-Chul Ban, Chan-Joo Kim, Il Kim, Jong-Chul Baik
Production manager: Joon-Woo Lee
Translator: Mi-Kyung Chang
Production coordinator: Suk-Chun Lee
Production administration: Angela Lee, Mi-Suk Cho, Yu-Min Kim, Tae-Jun Kim
Layout artists: Kyung-Mi Park, Mi-Na Shin, Myung-A Cho, Jun-Hae Lee, Seung-Hee Lee, Sung-Wook Choi, Young-Kwan Jung, Seung-Ik Lee
Animators: Doo-You Kim, Gun-Shik Lee, Sun-Wook Houng, Sang-Chul Soun, Yung-Sub Won, Mi-Young Kim, Kyung-Pil Lee, Moon-Su Hyung, Hea-Joung Choi, Min-Su Yang, Gyu-Chang Lee, Se-Jeong Cho, Yu-Jin Jang, Do-Young Park, Jong-Beom Kim, Seung-Yen Seo, Kyung-Jin Byun, In-Sul Hwang, Yong-Sup Jung, Myung-Hee Yoo, Hyun-Ae Lee, Seo-Han Kim, Ki-Hyun Ryu, Hyun-Jin Yoo, Soo-Yeon Jung, Jin-Suk Park
Videofakta
Angiven speltid:
78 minuter VHS, 82 minuter DVD (Båda värdena är dock felaktiga. Filmen är i verkligheten c:a 80 minuter lång, både på video och DVD.)
Åldersgräns:
Barntillåten
Ljud på videoutgåvan:
Hifi stereo, svenskt tal
Språk på DVD-utgåvan i Dolby Digital 5.1:
Svenska, engelska, danska, finska, norska
Text på DVD-utgåvan:
Svenska, engelska, danska, finska, isländska, norska samt svenska, danska, finska och norska för personer med nedsatt hörsel
Bildformat på videoutgåvan:
4:3 pan & scan
Bildformat på DVD-utgåvan:
16:9 - 1,66:1
Extramaterial på DVD:
Digital serietidning "Problemet med kortbyxor"
Spel "Rastplatsrycket"
Tecknarlägret
Musikvideo - "En grön tamburin"
Musikvideo - "Dansar på gatorna"
10 hemligheter med Rasten
Premiärdatum
Urpremiär på bio i USA den 16 februari 2001.
Svensk premiär på video och DVD den 22 maj 2002.
Källor
Buena Vista Home Entertainment, Stockholm 2005
Disney,
Rasten: Uppdraget rädda sommarlovet
(DVD-film), Buena Vista Home Entertainment Stockholm 2002
Disney,
Rasten: Uppdraget rädda sommarlovet
(VHS-film), Buena Vista Home Entertainment Stockholm 2002
Smith,
Supplement to "Disney A to Z the Updated Official Encyclopedia"
, 2005
British Board of Film Classification,
http://www.bbfc.co.uk/
The Internet Movie Database,
http://www.imdb.com/
---
Texten på denna sida © 2005 Anders M Olsson,
[email protected]
. Bilder från
Rasten: Uppdraget rädda sommarlovet
© Disney. Sidan senast uppdaterad den 18 februari 2005.