Victory through Air Power
Ej utgiven i Sverige (1943)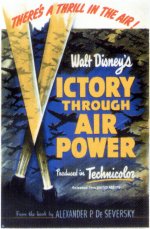 Amerikansk bioaffisch från 1943. © Disney
Victory through Air Power är troligen Disneys genom tiderna märkligaste och mest udda långfilm. Den kom till som resultat av Walt Disneys personliga övertygelse om att det enda sättet att besegra axelmakterna under andra världskriget var genom att använda flygstyrkor med lång aktionsradie. Avsikten med filmen var att på ett pedagogiskt och lättfattligt sätt övertyga allmänhet och beslutsfattare om det nödvändiga i den strategin. Victory through Air Power är alltså fjärran från Disneys normalt glättade familjeunderhållning, men trots det allvarliga ämnesvalet märks en del stänk av humor. Filmen bygger på boken med samma namn av major Alexander P. de Seversky, som för övrigt själv medverkar som presentatör.
Filmen blev totalförbjuden av den svenska filmcensuren i januari 1944, och har därför aldrig gått upp på bio i Sverige.
Major Alexander P. de Seversky
som sig själv
General Billy Mitchell
som sig själv
(via klipp ur journalfilm)
Art Baker
berättare
Technicolor
Speltid (på bio): 65 minuter
From the book by: Major Alexander P. de Seversky
Scenes with Major Seversky directed by: H.C. Potter
Director of photography: Ray Rennahan
Art direction: Richard Irvine
Color direction: Natalie Kalmus
Associate: Morgan Padelford
Interior decoration: William Kiernan
Animation supervision: David Hand
Story direction: Perce Pearce
Story adaptation: T. Hee, Erdman Penner, William Cottrell, Jim Bodrero, George Stallings, José Rodriguez
Sequence directors: Clyde Geronimi, Jack Kinney, James Algar
Art direction: Herbert Ryman, Donald Da Gradi, Tom Codrick, Charles Philippi, Elmer Plummer, Don Griffith, Cliff Devirian, Glen Scott, Karl Karpé, Bill Herwig
Animators: Ward Kimball, John Lounsbery, Hugh Fraser, George Rowley, John Sibley, Norm Tate, Bill Tytla, Josh Meador, Carleton Boyd, Bill Justice, Ed Aardal, John McManus, Oliver M. Johnston Jr., Marvin Woodward, Harvey Toombs
Backgrounds: Al Dempster, Dick Anthony, Claude Coats, Ray Huffine, Bob Blanchard, Joe Stahley, Nino Carbe
Music: Edward Plumb, Paul J. Smith, Oliver Wallace
Production manager: Dan Keefe
Film editor: Jack Dennis
Sound recording: C.O. Slyfield, Lodge Cunningham
Filmen har hittills aldrig getts ut på VHS-video någonstans i världen, men den har getts ut på DVD i USA och Canada. Där finns den som en del av en plåtlåda i serien Walt Disney Treasures med titeln Walt Disney on the Front Lines.
Urpremiär på bio i USA den 17 juli 1943
På DVD (region 1, USA o Canada) den 18 maj 2004
Victory through Air Power nominerades till en Oscar för bästa filmmusik, dock utan att vinna.
Det tecknade inslaget om flygets historia (History of Aviation) förekommer även som fristående kortfilm och finns dessutom med i ett avsnitt av tv-serien Disneyland (visat i svensk tv den 19 oktober 1958 och den 2 april 1960).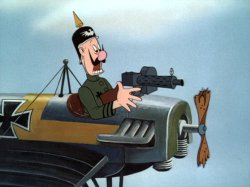 Ur flygets historia visas hur illa det kan gå om man försöker skjuta med en kulspruta som inte är synkroniserad med propellern. © Disney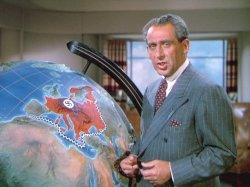 Major de Seversky förklarar krigssituationen i Europa. © Disney
Disney, Walt Disney on the Front Lines (DVD-film, region 1), Buena Vista Home Entertainment, Burbank California 2004
Maltin, The Disney Films (Fourth edition), Disney Editions, New York 2000
Programtidningen Röster i Radio TV, Sveriges Radio Stockholm 1958, 1960
Wredlund och Lindfors, Långfilm i Sverige 1940-1949, Proprius Förlag AB 1981
The Internet Movie Database, http://www.imdb.com/
---
Texten på denna sida © 2003, 2004, 2005 Anders M Olsson,
[email protected]
. Bilder från
Victory through Air Power
© Disney. Sidan senast uppdaterad den 8 april 2005.