Buzz Lightyear rymdjägare: Äventyret börjar
Buzz Lightyear of Star Command: The Adventure Begins (2000)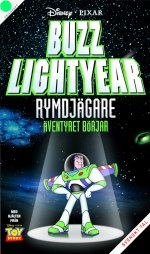 Videoomslag från 2001. DVD-utgåvan har samma omslagsbild. © Disney/Pixar
Rymdhjälten Buzz Lightyear från
Toy Story-filmerna
har fått en egen långfilm som dessutom fungerar som pilotavsnitt till hans tv-serie. Filmen inleds med en kort datoranimerad prolog, resten av filmen är handtecknad.
Under ett uppdrag på en ogästvänlig måne omkommer Buzz Lighyears kollega Max Antimateria. I fortsättningen vill Buzz helst arbeta ensam så att han slipper utsätta någon ny partner för fara. Men en galaktisk kris är under uppsegling. Den onde kejsaren Zurg tänker förslava hela galaxen med hjälp av en speciell sfär som innehåller de små gröna rymdisarnas kollektiva medvetande. Buzz Lightyear upptäcker snart att han inte kan besegra Zurg utan hjälp av sina kollegor Mira, Turbo och XR. Och frågan är om Max Antimateria verkligen är död?
Röster
Engelska originalröster
Buzz Lightyear
Tim Allen
Mira Nova
Nicole Sullivan
XR
Larry Miller
Booster
Stephen Furst
Zurg
Wayne Knight
Commander Nebula
Adam Carolla
Warp Darkmatter,
Agent Z
Diedrich Bader
LGM
Patrick Warburton
Space Ranger
Kevin Michael Richardson
Brain Pod #29
Charles Kimbrough
Technician,
Computer Voice
Cindy Warden
Grubs, Self Destruct,
Ranger #1,
Rhizomian Man,
Cadet Flarn
Frank Welker
Brain Pod #13
Sean P. Hayes
Rhizomian Woman
Jennifer Bailey
Hamm
Andrew Stanton
Woody
Jim Hanks
Sarge
R. Lee Ermey
Rex
Wallace Shawn
Wheezy
Joe Ranft
Svenska röster
Buzz Lightyear
Fredrik Dolk
Mira Nova
Sharon Dyall
XR
Johan Hedenberg
Turbo
Lars Dejert
Zurg
Steve Kratz
Max Antimateria,
Agent Z
Magnus Roosmann
Kapten Supernova
Guy De La Berg
samt
Jan Mybrand
Claes Månsson
Andreas Nilsson
Dick Eriksson
Kristian Ståhlgren
Mikael Roupé
Jennie Jahns
Stephan Karlsén
Olli Markenros
Stefan Frelander
Sånger
"To Infinity and Beyond"
Text och musik:
Fred LaBour
Arrangemang:
Randy Petersen, Tim Heintz
Sång:
William Shatner, The Star Command Chorus
Svensk produktion
Regissör:
Kristian Ståhlgren
Översättare:
Cecilia Molander
Dubbstudio:
Sun Studio Sverige
Kreativ supervisor:
Kirsten Saabye
Svensk version producerad av:
Disney Character Voices International, Inc.
Produktionsfakta
Director:
Tad Stones
Producers:
Mark McCorkle, Bob Schooley, Tad Stones
Screenplay:
Mark McCorkle, Bob Schooley, Bill Motz, Bob Roth
Voice casting and dialogue director:
Jamie Thomason
Music by:
Adam Berry
Supervising film editor:
John Royer
Storyboard:
Troy Adomitis, Ryan Anthony, Fred Gonzales, Steve Gordon, Wendy Grieb, Greg Guler, Garrett Ho, Don MacKinnon, Brad Rader, Chris Rutkowski
Timing directors:
Julie Hashiguchi, Gordon Kent, John Kimball, Marsh Lamore
Associate producer:
Mike Karafilis
Production manager:
Larry Johnson
Pixar creative consultant:
Jeff Pidgeon
Supervising character design:
Greg Guler
Lead color stylist:
Sharon Scott
Character design:
Dana Landsberg, Brian Brookshier, Ginny Hawes
Additional character design:
Kenny Thompkins
Key location design:
Justin Thompson, Kenny McGill, Simon Rodgers, Latchezar Gouchev
Prop design:
Chuck Puntuvatana, Tom Foxmarnick, Tris Mast
Lead background paint:
Donna Prince
Key background stylists:
Tom Cain, Rick Evans, Michael Inman, Sy Thomas
Color key stylists:
Janet Cummings, Karen Kilpatrick, Suzette Darling
Post production supervision:
Mark Von Der Heide, Steven J. Arenas
Post production coordinators:
Craig Sawczuk, Mark Allen Bollinger
Foley recordist:
Marilyn Graf
Original dialogue recording:
Paul Andris
Additional music by:
Andrew Gross, Jake Jacobson, Christopher Lennertz
Music mixer:
Casey Stone
Videofakta
Speltid:
67 minuter
Åldersgräns:
Barntillåten
Ljud på videoutgåvan:
Hi-fi stereo, svenskt tal
Språk på DVD-utgåvan i Dolby Digital 5.1:
Svenska, danska, norska, finska och engelska
Språk på DVD-utgåvan i Dolby Digital 2.0:
Isländska och arabiska
Textningar på DVD-utgåvan:
Svenska, danska, norska, finska, engelska, estniska och engelska för personer med nedsatt hörsel
Bildformat, videoutgåvan:
Pan & scan - 1,33:1
Bildformat, DVD-utgåvan:
1,78:1 (ej anamorfisk)
Distribution:
Buena Vista Home Entertainment AB
Extramaterial på DVD:
Läs serietidningen
Premiärdatum
På video och DVD i USA den 8 augusti 2000
På video och DVD i Sverige den 13 juni 2001
Övrigt

Tv-serien
Buzz Lightyear rymdjägare
hade amerikansk premiär den 2 oktober 2000 och svensk premiär på Disney Channel den 3 maj 2003.
Buzz Lightyear har även en egen serietidning (bilden till höger). Första numret utkom i februari 2002.
Bilder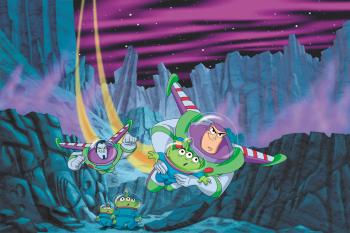 Buzz Lightyear och Max Antimateria på farligt uppdrag tillsammans med tre små gröna rymdisar. © Disney/Pixar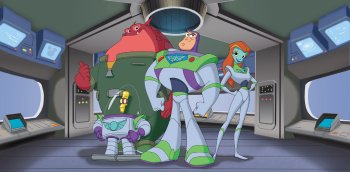 Buzz Lightyear omgiven av sitt nya team: XR, Turbo och Mira Nova.
© Disney/Pixar
Buena Vista Home Entertainment AB, Stockholm 2004
Disney/Pixar,
Buzz Lightyear rymdjägare: Äventyret börjar
(videofilm), Buena Vista Home Entertainment AB 2001
Disney/Pixar,
Buzz Lightyear rymdjägare: Äventyret börjar
(DVD-film), Buena Vista Home Entertainment AB 2001
Disney/Pixar,
Buzz Lightyear
(serietidning) nummer 1/2003, Serieförlaget Malmö 2003
Infomedia,
http://www.infomedia.lu/
(via
http://www.archive.org/
) 2003, 2004
I.N.D.U.C.K.S.,
http://www.inducks.org/
TV Tome,
http://www.tvtome.com/
The Internet Movie Database,
http://www.imdb.com/
---
Texten på denna sida © 2004 Anders M Olsson,
[email protected]
. Bilder från
Buzz Lightyear rymdjägare: Äventyret börjar
© Disney/Pixar. Sidan senast uppdaterad den 4 maj 2004.