En extremt långbent film
även med den svenska titeln
Långben på äventyr
An Extremely Goofy Movie (2000)
En extremt långbent film är en fristående uppföljare till Janne Långben – The Movie.
Röster
Engelska originalröster (Ej alla medverkande)
Bill Farmer
Långben
Jason Marsden
Max
Jeff Bennett
Bradley,
arbetsförmedlerska
och
sportkommentatorn Chuck
Jim Cummings
Svarte Petter
Brad Garrett
Tank
Vicki Lewis
Flicka i basker
Bebe Neuwirth
Sylvia Marpole
Rob Paulsen
P.J.
Pauly Shore
Bobby
Svenska röster
Johan Lindqvist
Långben
Nick Atkinson
Max
Fredrik Swahn
Bradley
Charlie Elvegård
Sportkommentator
Monica Forsberg
Arbetsförmedlerska
Stephan Karlsén
Svarte Petter
Fredrik Beckman
Tank
Lizette Pålsson
Flicka i basker
Sharon Dyall
Sylvia Marpole
Kim Sulocki
P.J.
Ola Forssmed
Bobby
samt
Daniel Bergfalk
Gunnar Uddén
Anders Öjebo
Ola Norman
Sofia Caiman
Stefan Berglund
Sånger
"Future's So Bright Gotta Wear Shades"
Text och musik av:
Pat MacDonald
Framförd av:
Pat Benatar & Neil Giraldo
"Don't Give Up"
Text och musik av: Steve Bartek
Framförd av: Terrence A. Carson, Carmen Carter; John Avila, Carl Graves
"Nowhere to Run"
Text och musik av: Brian Holland, Lamont Dozier & Eddie Holland
Framförd av: John Avila
"Pressure Drop"
Text och musik av: Frederick Hibbert
Framförd av: The Specials
"Shake Your Groove Thing"
Text och musik av: Frederick J. Perrin & Dino Fekaris
Framförd av: Peaches & Herb
"You Make Me Feel Like Dancing"
Text och musik av: Leo Sayer & Vincent Poncia
Framförd av: Carmen Carter & Donnie McClurkin
"Come On Get Happy"
Text och musik av: Wes Farrell & Danny Jansen
Framförd av: The Partridge Family
"Knock On Wood"
Text och musik av: Eddie Floyd & Stephen Lee Cropper
Framförd av: Carmen Carter
"Right Back Where We Started From"
Text och musik av: Pierre Tubbs & Vincent J. Edwards
Framförd av: Cleopatra
Svensk produktion
Producent / regi:
Monica Forsberg
Regi:
Stefan Berglund
Översättare:
Mats Wänblad
Produktionsledare:
Krister Roseen
Tekniker:
Anders Öjebo, Thomas Banestål, Christian Jernbro, Andreas Eriksson, Ola Norman
Inspelat i:
KM Studio AB
Finalemix:
Mads Eggert, Sun Studio Danmark
Kreativ ledning:
Kirsten Saabye
Svensk version producerad av:
Disney Character Voices International, Inc.
Produktionsfakta
Speltid:
76 minuter
Produced by: Walt Disney Television Animation
Director: Douglas McCarthy
Producer: Lynne Southerland
Director of animation: Ian Harrowell
Screenplay by: Scott Gorden
Additional screenplay material by: Hillary Carlip
Voice casting and dialogue director: Jamie Thomason
Score by: Steve Bartek
Art director: James Gallego
Supervising film editor: Nancy Frazen
Storyboard: Holly Forsyth, Linda Miller, Larry Leker, Larry Scholl, Terry Lennon, Robert Souza, Jennifer Lerew, David Smith, Bob Logan, Alan Zegler
Animation and timing directors: Bill Knoll, Terry Lennon
Lead character designer: Dana Landsberg
Lead color stylist: Jill Stirdivant
Key layout design: David High, Andrew Ice, Ted Blackman, David Martin, Christopher Morley, David Dunnet, Alexander McCrae, Robert St. Pierre
Prop design: Ted Blackman, Fred Gardner, Bill Franks, Terry Hudson, Chuck Puntuvatana
Key background stylists: John Harmon, Richard Lynes, Danilo de Asis
Character design: Ashanti Miller, Robert Sledge, Jose Zelaya
Layout director: Alex Nicholas
Assistant layout supervisors: Yoshiko Barry, Nick Pill
Layout artists: Abeth de la Cruz, Weylen Tseng, Kevin Wotton, Stephane Portal, Stephen Grant, Mac Monks, Bruce Pederson
Background layout lead: David Skinner
Background layout artists: Michael Badman, Nicole Papax, Frank Wessing
Supervising animators: Andrew Collins, Bob Baxter, Steven Trenbirth, Kevin Peaty
Animators: Pieter Lommerse, Davide Benvenuti, Myke Sutherland, Lianne Hughes, Lily Dell, Kathie O'Rourke, Warwick Gilbert, Di Rudder, Kevin Wotton, Nilo Santillon, Deborah Cameron, Morris Lee, Noel Cleary, Simon Ashton, Ryan O'Loughlin, Bernard Derriman, Manny Banados, Manuk Chang, Gie Santos, Sid Ahearne, Dick Dunn, Kristina Reay, Alan Lam, Brenda Sutton, Adam Murphy, Andrew Brooks, Alexs Stadermann, Rizaldy Valencia, Robert Mason, Mike Howie, Randy Glusac, David Costello
Special effects supervisor: Adam Phillips
Special effects animators: Darren Keating, Del Larkin, Rowena Hamlyn-Aspden, Joel Hancock
Cgi animators: Sean Aspinall, Matt Jones
Technical directors: Gary Page, Brian Cole
Background supervisor: Beverly MacNamara
Assistant background supervisor: Piero Sgro
Background artists: Barry Dean, Jerry Liew, Vicente Jungstedt, James Zheng, Nathan Lee
Production managers: Charles Kaitz, Dan Forster
Videofakta
2007 års DVD-utgåva
Originaltitel:
An Extremely Goofy Movie
Produktionsår:
2000
Angiven speltid:
76 minuter
Åldersgräns:
Barntillåten
Språk i Dolby Digital 5.1:
Svenska, danska, norska, finska, engelska
Språk i Dolby Digital 2.0:
Isländska
Textade språk:
Svenska, danska, norska, finska, engelska, isländska samt engelska för personer med nedsatt hörsel
Regionskod:
2
Antal skivor:
1
Bildformat:
4:3 – 1,66:1
Distribution:
Buena Vista Home Entertainment AB
Extramaterial:
"Frågesport", "Läs med!"
Premiärdatum
Urpremiär på video och DVD (region 1, USA o Canada) den 29 februari 2000.
På video (ej DVD) i Storbritannien den 8 maj 2000.
Svensk premiär på TV1000 den 20 april 2002.
Första svenska DVD-utgåvan den 13 juni 2007.
Övrigt
TV1000 kallade filmen
Långben på äventyr
i sin programtablå, men den svenska titeln enligt filmens egen namnskylt är
En extremt långbent film
.
Bilder
Max är inte alls glad över att vara klasskamrat med sin far. © Disney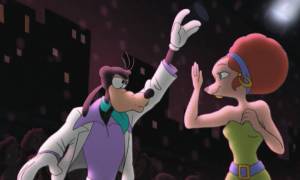 Släng dig i väggen John Travolta! Här briljerar Långben på dansgolvet tillsammans med sin nyfunna flickvän Sylvia. © Disney
Källor
Buena Vista Home Entertainment AB, Stockholm 2007
Disney,
An Extremely Goofy Movie
(DVD-film, region 4), Warner Home Video Pty Limited, Pyrmont, NSW 2000
Disney,
En extremt långbent film,
(DVD-film), Buena Vista Home Entertainment AB, Stockholm 2007
Disney,
En extremt långbent film,
inspelad från TV1000 hösten 2002
TV1000,
http://www.tv1000.se/
2004
The Internet Movie Database,
http://www.imdb.com/
---
Texten på denna sida © 2002, 2004, 2007 Anders M Olsson, [an error occurred while processing this directive] . Bilder från En extremt långbent film © Disney. Sidan senast uppdaterad den 8 juli 2007.