Walt Disney Treasures: The Donald Duck Collection
(2009)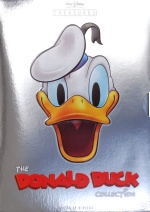 DVD-box från 2009 © Disney
En DVD-box med de tre första volymerna av Walt Disney Treasures: The Chronological Donald.
Innehåll
Videofakta
EAN-kod: 8 717418 225704
Se respektive filmsida för mer information om de ingående DVD-utgåvorna.
Premiärdatum
Boxen utgiven i Sverige den 18 november 2009
Källor
Walt Disney Studios Home Entertainment, Stockholm 2009
---
Texten på denna sida © 2009 Anders M Olsson, [email protected]. Bilder från Walt Disney Treasures: The Donald Duck Collection © Disney. Sidan senast uppdaterad den 18 oktober 2009.