Kim Possible - Tidsapan
Kim Possible: A Sitch in Time (2003)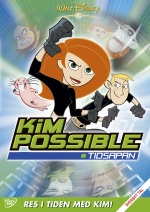 DVD-omslag från 2006. Filmen har inte getts ut på VHS i Sverige. © Disney
Kim Possible är en alldeles vanlig tonårstjej som har en mycket ovanlig hobby - att rädda världen! För Kim är ingenting för svårt, utom möjligen de mera vardagliga problemen med vännerna, familjen och skolan. I Sverige introducerades Kim Possible i sin egen tv-serie på våren 2003, när svenska Disney Channel startade.
I den här filmen, som är Kim Possibles första långfilm, har alla superskurkarna slagit sig samman för att ta över världen. För att planen ska lyckas måste de först röja Kim ur vägen. Med hjälp av en stulen apstatyett med magiska krafter kan skurkarna resa bakåt i tiden och slå till mot en yngre och mindre erfaren Kim Possible. Men då har de förstås inte räknat med nakenmullvaden Rufus, och hans ättlingar från framtiden...
Röster
Engelska originalröster

| | | |
| --- | --- | --- |
| Kim Possible | | Christy Carlson Romano |
| Ron Stoppable | | Will Friedle |
| Rufus | | Nancy Cartwright |
| Wade | | Tahj Mowry |
| Monique | | Raven |
| Drakken | | John DiMaggio |
| Shego | | Nicole Sullivan |
| Kim's dad | | Gary Cole |
| Kim's mom | | Jean Smart |
| Bonnie Rockwaller | | Kirsten Storms |
| Future Jim and Tim | | Freddie Prinze Jr. |
| Future Bonnie | | Kelly Ripa |
| Future Monique | | Vivica A. Fox |
| Ron's dad | | Elliot Gould |
| Prekindergarten Kim | | Dakota Fanning |
| Future Wade | | Michael Clarke Duncan |
| Rufus 3000 | | Michael Dorn |
| Prekindergarten Ron | | Harrison Fahn |
| Jim and Tim | | Shaun Fleming |
| Duff Killagan | | Brian George |
| McHenry | | Richard Gilliland |
| Monkey Fist | | Tom Kane |
| Ron's mom | | Andrea Martin |
| Pre-school teacher | | Kath Soucie |
Svenska röster
Kim Possible
Frida Nilsson
Ron Stoppable
Gabriel Odenhammar
Wade
Anton Mencin
Doktor Drakken
Johan Hedenberg
Shego
Anna Norberg
Kims pappa
Niclas Ekholm
Kims mamma
Cecilia Lundh
Jim och Tim
Anton Nyman
Rufus
Sofia Caiman
samt
Cecilia Milocco
Niclas Ekholm
Claes Ljungmark
Jan Modin
Gunnar Uddén
Jenny Wåhlander
Anton Nyman
Anders Öjebo
Fredrik Hiller
Blenda Nyman
Filip Hallqvist
Michael Blomqvist
Malin Berg
Fredrik Beckmann
Sånger
"Work it Out"
Text och musik av:
Muffin Spencer, Karen Frost, Jonny Barrington, Stefan Gordon
Framförd av:
Brassy
"Get up on Ya Feet"
Text och musik av: Nicky Alan Cook, Phil Dane, Martin Bushell
Framförd av: Aaron Carter
"E is for Everybody"
Text och musik av: Sam Hollander, David Schommer, Jill Gunniff
Framförd av: Cooler Kids
"It's Just You"
Text och musik av: Adrian Gurvitz, Charlie Midnight
Framförd av: LMNT
"This Year" (Gäller endast video/DVD-versionen)
Text och musik av: Marti Frederiksen, Leah Anreone, Billy Steinberg
Framförd av: A*Teens
"Call Me, Beep Me!" (Tony Phillips Remix) (Gäller endast tv-versionen)
Text, musik, produktion: Cory Lerios, George Gabriel
Svensk produktion
Regi:
Anna Nyman
Översättare:
Lasse Torefeldt
Textförfattare:
Bengt-Erik Engholm
Kreativ ledning:
Kirsten Saabye
Inspelat i:
KM Studio AB
Produktionsledare:
Johan Nyberg
Mix:
Jonas Lindberg
Tekniker:
Thomas Banestål, Daniel Bergfalk, Andreas Eriksson, Jonas Lindberg, Ola Norman, Carl Utbult, Anders Öjebo, Christian Jernbro
Produktionsfakta
Speltid:
c:a 66 minuter (Videoversionen, NTSC), c:a 62 minuter (TV-versionen, PAL)
Produced by: Walt Disney Television Animation
Executive producers: Mark McCorkle, Bob Schooley
Directed by: Steve Loter
Written by: Bill Motz, Bob Roth
Created by: Mark McCorkle, Bob Schooley
Music by: Adam Berry
Story editors: Bill Motz, Bob Roth
Film editors: John Royer, Ted Supa
Dialogue director: Lisa Schaffer
Voice casting: Lisa Schaffer, Jamie Thomason
Storyboard: Troy Adomitis, David Knott, Nick Filippi, Doug Murphy, Tom Bernardo, Ashley Lenz
Timing directors: Barbara Dourmashkin-Case, Rick Leon, Gordon Kent, J.K. Kim, Mircea Mantta, Eddie Houchins, Michel Lyman
Line producer: Kurt Weldon
Lead character design: Stephen Silver
Character design: Brent Gordon
Prop design: Scott Hill, Ernie Guanlao, Jason Hulst, Chuck Puntuvatana
Location design: Bruce Berkey, Latchezar Gouchev, Andy Ice
Background paint: Dorothea Schoentag, Teri Shikasho, Nadia Vurbenova-Mouri
Color stylist: Allyn Conley, Carol Berke
Storyboard revisions: Calvin Suggs, Kyle Menke, Nathan Chew, Fred Gonzales, Craig Kemplin, John Nevarez, Mark Cote
Animation produced by: Starburst Animation Co., Ltd
Directors: SaHak Hong, Seung Hoon Yang, ChonYong Yu, HyoSeok Ko, JongChul Baek, YoHan Han, Bong Hee Han, DooSeok Lee
Overseas supervisor: Brad Goodchild
Layout directors: JaeHee Lee, MyungHoon O, JongDae Lim, YoungWhan Lee, SungChan Lee, ShinWhan Chang, Taeil Kim
Layout artists: JoonYoung Park, DooHyuk Kim, Taeil Kim
Animation directors: SaHak Hong, ChoonYong Yu, JongChul Baek, BongHee Han, SeungHoon Yang, HyoSeok Ko, YoHan Han, DooSeok Lee
Animators: SungWoo Shin, SungShik Choo, YoungJoon Byun, ChulHo Kim, JaeOk Jung, Daell Kang, SeungHoon Yang, SeungHo Chun, JungKook Choi, ChoonYong Yu, MiSook O, SungHo Shin, YoonHee Lee, JungGon Kim, JoonBae Kim, SungHee Lee, SeongShik Chu, AhnSoon Choi, SeungHo Chun, SangKyung Han, CheolHo Kim, JiHyun Nam, EunAh Yun, MiJung Kang, YeonOk Kim, SungYoung Woo, ByungNam Cho, SeungShik Yang, YoonMi Han
Videofakta
Angiven speltid:
63 min
Åldersgräns:
Barntillåten
Bildformat:
16:9 - 1,78:1
Språk i Dolby Digital 2.0:
Svenska, danska, norska, finska, engelska
Textade språk:
Svenska, danska, norska, finska, engelska samt engelska för personer med nedsatt hörsel
Antal skivor:
1
Regionskod:
2
Distribution:
Buena Vista Home Entertainment AB
Extramaterial på DVD:
Total-coolt tidsförskjutningsprogram med Tempus Simius
Musikvideo: "The Naked Mole Rap"
Premiärdatum
Urpremiär på tv (Disney Channel) i USA den 28 november 2003.
På video och DVD i USA den 16 mars 2004.
Svensk premiär på Disney Channel den 1 oktober 2004.
På video och DVD i Tyskland den 21 oktober 2004.
På video och DVD i Storbritannien den 14 mars 2005.
Första svenska DVD-utgåvan den 14 juni 2006.
(Har inte getts ut på VHS i Sverige.)
Övrigt
Det finns två olika versioner av
Kim Possible - Tidsapan
, en för tv och en för video/DVD. De båda versionerna har olika bildformat och skiljer sig något lite åt i klippningen. I tv-versionen finns t.ex. nedtoningar för reklamavbrott. Den största skillnaden är annars att eftertexterna har helt olika utseende. Även musiken som spelas under eftertexterna skiljer.
Tv-serien Kim Possible hade amerikansk premiär den 7 juni 2002 och svensk premiär på Disney Channel den 3 mars 2003.
Det finns ytterligare en långfilm med Kim Possible, nämligen Drypande dramatiskt.
Bilder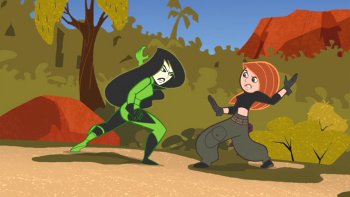 Kim Possible (till höger) i närkamp med Shego, självutnämnd ledare för superskurkarna. © Disney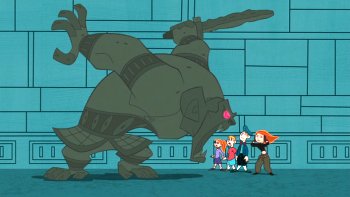 Kim Possible och Ron Stoppable har rest tillbaka i tiden och träffar sig själva som barn. Hur ska det gå för Kim och Ron (i dubbel upplaga) när de blir attackerade av den här hotfulla gestalten? © Disney
Källor
Buena Vista Home Entertainment AB, Stockholm 2005, 2006
Disney,
Kim Possible - Tidsapan
inspelad från Disney Channel i december 2004
Disney,
Kim Possible - Tidsapan
(DVD-film), Buena Vista Home Entertainment AB, Stockholm 2006
Disney,
Kim Possible: A Sitch in Time
(DVD-film, region 1), Buena Vista Home Entertainment Burbank California 2004
Disney Online,
http://disneyvideos.disney.go.com/
, 2004
Infomedia,
Programtablåer för Disney Channel
, 2004
Infomedia,
http://www.infomedia.lu/
(via
http://www.archive.org/
) 2003, 2004
Smith,
Supplement to "Disney A to Z the Updated Official Encyclopedia"
, 2004
The Internet Movie Database,
http://www.imdb.com/
---
Texten på denna sida © 2004, 2005, 2006 Anders M Olsson,
[email protected]
. Bilder från
Kim Possible - Tidsapan
© Disney. Sidan senast uppdaterad den 29 juni 2006.